It's been a while since I linked up to The Simple Things but this week I had some pictures that I never posted that I just love.
We had a rare day that we spent more than 5 minutes outside and it was really nice, because I miss the great outdoors. Maddie was "smelling" the dried up sunflower. We took all of the seeds from this little guy and plan on planting them in the spring!
I love this picture because you can see the clouds reflected in the door and then you see Gracie in the corner looking out...it was still too hot for her to enjoy, so she had a front row seat to all the action!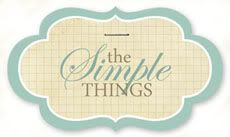 click here to see other simple things photos