We are still very sad our good friend Kyler will be leaving soon. To help him remember all the fun we had at the parks and play dates we made him a little game of Memory. First we took two sets of pictures...
and then we cut some cute scrapbook paper 4"x6"
laminate them and package them up with a cute label...
and it's Kyler-approved!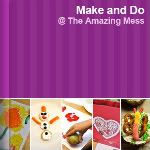 I'm linking up here! Click on the image and you can see what other Mommas are making!!