Maddie is so fiercely independent, it's very rare she will let us hold her hand. I love her "I can do it myself" approach to life. Although yesterday, she gladly accepted the help of Daddy's strong hand as she wobbled her way through the snow.
Four days cooped up inside with no where to go, I also gladly accepted Daddy's helping hand to entertain our busy, little toddler!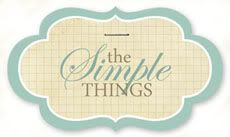 See other simple things photos here!